Description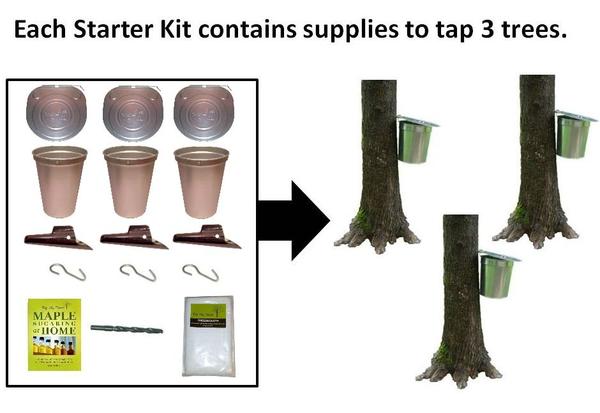 3 Aluminum (2 gallon) Buckets: Bucket is used to collect the sap as it drips from the spile. Highest quality aluminum bucket on the market. Made from aluminum with reinforced hole to hang bucket
3 Aluminum Lids: Lids prevent rain, snow, and foreign material from entering the bucket.
3 Spiles: Stainless steel spile (tap) is inserted into drilled hole to transfer sap into the bucket.
3 Hooks: Hooks are attached to spile and used to hang the bucket.
Maple Sugaring at Home book: This guide provides step-by-step instruction (complete with pictures) to tap your maple trees. Includes information on how to identify your maple trees, how to tap trees, collection and storage of sap, uses for maple sap including how to make maple syrup, and frequently asked questions.
1 Drill Bit: 7/16 drill bit with 3/8 shank used to drill tap hole into your maple tree.
Cheesecloth: Used to filter any solids (such as pieces of bark) when transferring sap from the collection bucket to a storage container.
Free Shipping within US!